Retaining Walls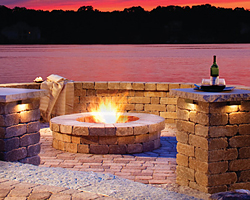 Weston Stone® Collection
Broaden your wall design horizons

Weston's 8" x 12" rectangular unit is ideal for columns. Although it's a tumbled stone, Weston offers homeowners a cleaner, more sculpted look-particularly in nvironments that require a more comtemporary approach.



Colors and Shapes
Actual color and size may vary. To assure your total satisfaction, request samples of the style and color you're interested in. Available in North Carolina (NC), South Carolina (SC), Southern Virginia (So. VA), Tennessee (TN) and Southern Kentucky (So. KY).

Colonial
(All Regions)

Rivers Edge
(All Regions)

Weston Stone
4" x 12" x 8"

Westgate Coping/Cap
2 3/8" x 12" x 10"