Retaining Walls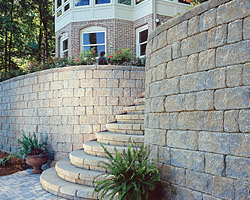 Century Wall™ Collection
Historic charm rises to new heights

Century Wall™ offers the distinctive appearance and character of a random-pattern, vintage natural stone wall with the structural integrity and performance of modern materials. Blended with color and character, these high-strength modules evoke historic charm while employing the latest built-in technology with the Keystone pin-assured connection.


Colors and Shapes
Actual color and size may vary. To assure your total satisfaction, request samples of the style and color you're interested in. Available in North Carolina (NC), South Carolina (SC), Southern Virginia (So. VA), Tennessee (TN) and Southern Kentucky (So. KY).

Highland
(All Regions)

Oxford
(All Regions)

Sheffield
(All Regions)

Century Wall
8" x 18" x 12"
8" x 11" x 12"
8" x 7" x 12"

Half Century
4" x 18" x 12"
4" x 11" x 12"
4" x 7" x 12"

Corner Jumper
8" x 16" x 12"

Cap
4" x 18" x 11"