Pools
Custom Pool Decks
Create a stunning centerpiece at your home with a Custom Paver Pool Deck & Coping by EASTMAN HARDSCAPE CONSTRUCTION.
Interlocking hand-laid paver pool decks offer advantages other materials just don't have. Our custom pool decks offer a non-slip surface when wet and hundreds of color and texture options. Certain types are as cool as Kool deck, won't crack or break, and all have a Lifetime Guarantee!! Interlocking Concrete Pavers (such as UNILOCK) will turn any pool deck into a beautiful addition to your home.
We service Mt Juliet, Lebanon, Hermitage, Old Hickory, Gallatin, Donelson, Murfreesboro, Hendersonville and neighboring Tennessee cities.
Call Us Today! 615-443-0401
Restore Curb Appeal With a Paver Pool Deck
If you have an old pool deck that is cracked, ugly, or just needs to be replaced, pavers are the way to go. We overlay many pool decks with concrete pavers turning your ugly pool deck into a work of art. Overlaying pool decks with interlocking concrete pavers is a cheaper way of restoring the curb appeal of your home.
Why take out old and cracked concrete if you don't have to? Paver overlaid pool decks are like a facelift for your backyard! Check out some of the pool decks we have recently done and contact us to get your own new pool deck.
Call Us Today! 615-443-0401
Expert Pool Coping Installation
EASTMAN HARDSCAPE CONSTRUCTION can also install a new fullnose paver coping for your old or new pool as well. Our UNILOCK fullnose coping is a great compliment with many colors and types of concrete pavers. Or you may prefer a natural stone coping such as Limestone or Crab Orchard stone for your pool. Natural stone copings come in many different sizes and colors which will give your pool a stunning look! E-mail us today at eastmanhardscapes@yahoo.com and we will see what we can do for your home tomorrow!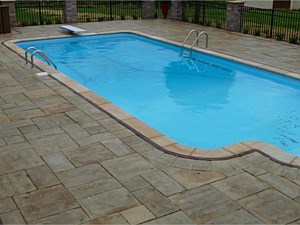 Click here to see our pools portfolio »