Pavers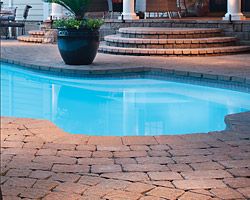 Bergerac® Collection
The look of hand-cobbled stone

Offering the same appealing qualities as its larger counterpart, but on a slightly smaller scale, Bergerac artfully recalls ancient Roman cobbled stone. Its intriguing multicolor blends and versatile circle pavers expand your ability to create remarkably complex and unique designs.



Colors and Shapes
Actual color and size may vary. To assure your total satisfaction, request samples of the style and color you're interested in. Available in North Carolina (NC), South Carolina (SC), Southern Virginia (So. VA), Tennessee (TN) and Southern Kentucky (So. KY).

Ardennes
(All Regions)

Fossil Beige
(All Regions)

Potomac
(All Regions)

4-Piece Combo*
2 3/8" x 5 1/2" x 4 3/4"
2 3/8" x 5 1/2" x 6 5/16"
2 3/8" x 5 1/2" x 7 7/8"
2 3/8" x 5 1/2" x 9 7/16"
*Special order only.

3-Piece Modular
2 3/8" x 7 1/16" x 3 9/16"
2 3/8" x 7 1/16" x 7 1/16"
2 3/8" x 7 1/16" x 10 5/8"

Circle
2 3/8" x 5 1/2" x variable