Patios
Looking for a new patio? Eastman Hardscapes build their custom patios with a variety of different concrete pavers. Whether it is tumbled pavers with a weathered look, or a standard paver with the old world timeless beauty, Eastman's custom patios are a work of art. We take your ideas and our expertise, to make your dreams become reality.

If you need more than just a custom paver patio, make your patio into a beautiful outdoor living room! With our custom built grill stations, outdoor fireplaces, outdoor fire pits, outdoor kitchens, and seat walls, you can transform your old patio into another room for your house. Our custom patios can incorporate many different variables. Small features such as outdoor low voltage lighting can add to the vision of your perfect patio. Whether you have a small condo with a courtyard or a home on five acres, we can design & build your custom patio to fit your needs and wants.

Paver patios have evolved over the years. You can now go green with a permeable paver patio. Permeable pavers are engineered to be environmentally friendly. Permeable pavers allow water to flow through their joints instead of running off. Permeable paver systems help clean the water that passes through it on its way to migrate back into the earth below. Permeable pavers are a great way to make your home more environmentally friendly and permeable pavers qualify for LEED Credits.

Still, if you are watching your budget, don't be fazed by the custom patios featured here. We have pavers, walls, and simple plans that will fit into even the smallest budget. Call or e-mail us today to get started on your custom patio.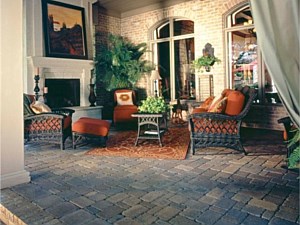 Click here to see our patio portfolio »