Retaining Walls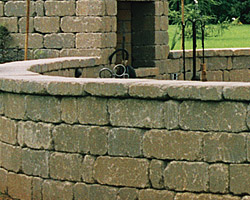 Stonegate Collection
The look of smooth, weathered stone

Featuring the look of smooth, weathered stone you might find in a quaint European town, Stonegate Country Manor™ has all the best features of the original Keystone Country Manor®, but with a twist! Stonegate Country Manor's smooth face looks like cut stone and presents a more refined look.


Colors and Shapes
Actual color and size may vary. To assure your total satisfaction, request samples of the style and color you're interested in. Available in North Carolina (NC), South Carolina (SC), Southern Virginia (So. VA), Tennessee (TN) and Southern Kentucky (So. KY).

Colonial
(All Regions)

Rivers Edge
(All Regions)

Large
6" x 16"/14" x 10"

Medium
6" x 12"/10" x 10"

Small
6" x 6"/4" x 10"

Westgate Coping/Cap
2 3/8" x 12" x 10"